Achieving Personal Greatness: Discover the 10 Powerful Keys to Unlocking Your Potential written by Tim Lavender is a book that inspires the readers to look within themselves and find the possible and hidden talents that could help them in knowing themselves better. This book is certainly another title in the motivational and self-help genre but it does have the distinguished qualities that help it stand out. We will know about the book briefly in this review.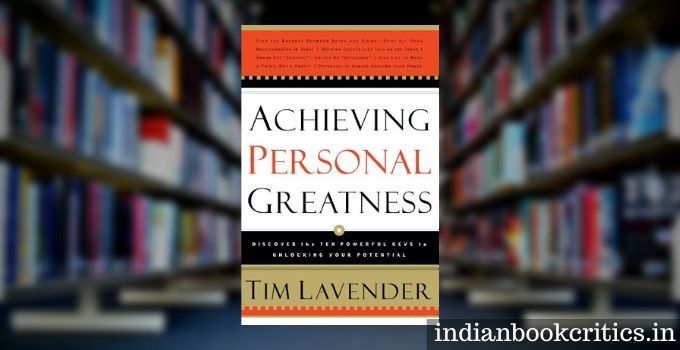 What is personal greatness? Is it the power you have or is it the position you hold or is it the wealth you acquire or is it the attitude you possess? Personal greatness is beyond all this. According to Corporate Consultant Tim Lavender and the author of Achieving Personal Greatness, personal greatness is to know oneself, to actualize your dormant talents and skills, to act, to grow and to explore relentlessly throughout the life, as learning is a lifetime process.  
In this book Achieving Personal Greatness, Tim has explained three basic laws and seven principles one must follow to achieve personal greatness. The one which I find most important is to "Put your Cart before the Horse". In simple words, to put your being before whatever you do. As he believes that we might be more, do more, have more and accomplish more! But we let other people, our surroundings design us as an individual. Thereby, sadly but eventually, with each step, we brutally kill the purpose of our own being. And the assets which we actually possess are never actualized. 
Immediately, the question hits – what is the purpose of being? Where does it lay? To which Tim explains the purpose of being lies deep inside you in an untouched, unexplored invisible world. The world which is beyond the material world in which we believe we live. He says the invisible realm is far more beautiful than this material world and everything resides there has unlimited capacity be it knowledge, understanding, wisdom, creativity, spiritual insight, love, faith, hope. Everything can be greater. By reaching in this invisible world we would find the hidden gems of leading and dealing with life. We would be able to create a pathway for ourselves. 
The author concedes that we dream about our lives, especially the future. We "live" in the future we hold in our minds. It is the very real place we hope to occupy someday in the not-too-distant future. To actually occupy the place, it is essential that we do not ride on the waves of opportunities which come in our way. If we do so, then we might enjoy the colours of spring, savour juicy fruits of summer, embrace the cold crisp mornings but we wouldn't be able to withstand chills of horrible winter. This would eventually lead us to unhappiness and discontentment. Rather, Tim believes in, the more we exercise and use the talents we were given since birth and the skills which we have developed since birth, the greater the potential for further discovering and developing our talents and skills!
Last but not the least, according to Tim, the measure of your greatness in life is not the position you have achieved in a job or the wealth you possess. It is about the potential you actualize. Design your every step insightfully to make a point, to make an impact as life is not only about profit. 
Like other books of this genre, Achieving Personal Greatness serves the same purpose to elevate the positive spirits. However, in this book, he has used a very different and also very interesting style of narrative. The author has tried to communicate to the readers in actual terms and let them know what they should be doing rather than just thinking something to be done in the near future. The book explores within oneself rather than extending a set of certain principles that we need to completely imbibe in our daily lives. Tim has tried to make this book enjoyable with realistic and practical illustrations. 
I would suggest that this book is useful but does have certain drawbacks. Basically, everything in the book comes from Tim's own experiences in life, which is, good as well as bad. At times, personal experiences can help us understand the things in the first person and also help us realise the full potential of any harm or benefit. However, there also lies the fear of a biased analysis. We often tend to extend only losses or profits – depending upon the situation – when it comes to narrating the stories of success or failures. So, the book may be flawed with the same issue. At the same time, I did enjoy reading this book as it offers an entirely new experience. So, I would go on to recommend this book to the readers of the self-help genre. You can explore too much… You can get a copy of the book from Amazon India by clicking the link below: 
Buy the book – click to buy from Amazon India 
review by Nidhi Parikh for Indian Book Critics 
Achieving Personal Greatness: Discover the 10 Powerful Keys to Unlocking Your Potential
Indian Book Critics' Score
Summary
Achieving Personal Greatness: Discover the 10 Powerful Keys to Unlocking Your Potential is a popular book in the self-help and motivational genre that will inspire the readers to look within themselves and get knowledge of their hidden talents that are with them since birth. It helps the readers realise potentials that can help them go one step further in life and bring more to their success basket.