Football fans, are you ready to read your next football book? I know many of you must have been busy exploring the recent past when you could have stuck to your TV screens and watch Messi and Ronaldo, Mbape and Neymar, De Gea and Stegen and many other footballers compete with each other in free spirit. However, as coronavirus pandemic has been lingering and shadowing all our hopes of good football competition in the various European top 5 leagues and the Champions League, here is something that you can do to keep your mind occupied with good memories of football. In this series, I will walk you through the best football literature and we are beginning our journey with Sir Alex Ferguson's autobiography – Alex Ferguson: My Autobiography.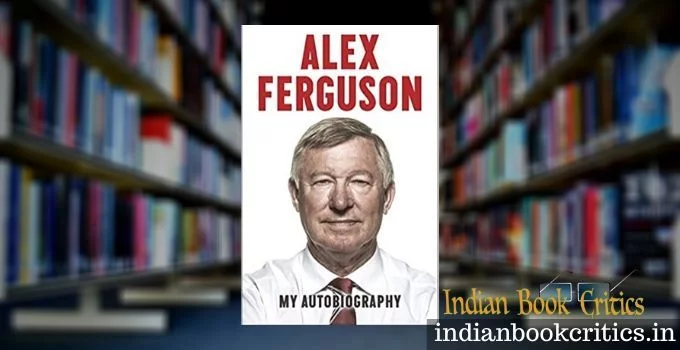 So, the autobiography of Sir Alex was published after his retirement from the post of manager of a reputed, perhaps the most famous English Club by now, Manchester United. Published on 24 October 2013, the autobiography of Sir Alex has been a very popular book among the lovers of football. In this autobiography, the protagonist has uncovered many little known secrets to his fans, his readers and football lovers. I will try to cover the most about this book in my review. Before we get into the details, the signal is BUY! If you love football, you are missing football, you want to read about football, you need to read this book!
"When you acquire a young player, you don't the complete package on the purchase day. There's work to be done."      81
And today, when we are growing up seeing too much football around us, England, Spain, Italy, France, Germany – The Top 5 – we see many young players coming to new teams with high hopes, mounting the ride on fancy wings for a while and fade away. What are we missing? Perhaps a mind like Ferguson… I can say that we have seen the short rise and fall of Oscar (Brazil), James Rodríguez (Columbia) and Gareth Bale (Welsh) and according to Sir Alex's wise words, these talents could have seen the world around them dwarfing down had their coaches and team worked on them professionally and passionately.
The autobiography of Sir Alex is a first-hand coaching manual for the readers who are interested in becoming football managers (I am serious if you are ;). He has shared his experiences in buying, selling, nurturing and offloading the talents in football. And he has also shared many memories of the days when he had to go against the popular opinions of other MU staff in terms of getting on-board a few players like Scholes, Beckham, Giggs, Ferdinand, Ronaldo, Rooney etc. And he proudly says in his book:
Alex Ferguson: My Autobiography has been divided into 25 clear chapters and many of them have been dedicated to master players Sir Alex managed. Beckham, Rio Ferdinand, Ronaldo, Rooney, Keane, and Van Nistelrooy. Please note that I may have confused the order of these players in the chapters. Moreover, a few chapters have been dedicated to master managers that Sir Alex faced – Mourinho and Wenger. And at last, other than the chapters that reflect on sides other than football, there are a few chapters dedicated to the master teams that Sir Alex faced during his coaching career – Barcelona, Liverpool and Man City.
There are many interesting revelations in this book made by Sir Alex and I am sure that the readers would love reading these secrets, hidden, covert or erstwhile unknown things. For example, on page number 108, you can read what transpired, according to Sir Alex, which forced through the Ronaldo transfer from MU to Real Madrid. Sir Alex says:
"It was a way for Florentino Pérez, their president, to say to the world, 'We are Real Madrid, we are the biggest of the lot.' It was a clever move by them and a declaration of their intent to chase to the game's most famous players."   page 108
And indeed, his judgement was right and it was bound to be because he had been managing one of the world's most famous football clubs of all time – Manchester United. By reading this book, and even during the course of your perusal, you can easily guess the heights to which Alex Ferguson's mind elevated when he was actively into football. There are also many interesting observations about his rival teams and rival managers. So much that the author has dedicated individual chapters on them. He makes a very serious, interesting and visionary statement on Mourinho, the famous and also notorious coach of many teams, Inter, Real Madrid, Chelsea and United itself. Here is what Sir Alex had to say about Mourinho:
The book is full of such anecdotes, wonderful expressions, timeless quotations and, above all, the wonderful proofs that Alex Ferguson was a footballing genius not only when his team was playing the rivals on the pitch but also when he was sitting idle pondering about others who played the game or others who managed the teams. The autobiography reveals that Sir Alex had immense respect for his rival managers and also his rival teams and he did not let rivalry on the ground overpower and outshine the sportsmanship outside the football stadium.
Sir Alex was all high praising the Barcelona squad which defeated him two times in the Champions League final – 2009 and 2011. Sir Alex also has high regards for Messi and he did not mince his words in pressing the little master of football. He sums it up beautifully in the very beginning of Chapter 19 of his book, writing about FC Barcelona (2009-11), page 263:
And therefore, to conclude this book review, I will add a little more. Just a little more, that Sir Alex Ferguson's autobiography is full of details that any football fan would love to read. In the days when coronavirus had affected the gatherings on Old Trafford, you, as a United Fan or an eternal fan and admirer of Sir Alex, will surely love reading his autobiography where he has opened up on many things that he might not have said on camera all the time. Are you a fan? I have given you more than enough reasons to read the book many times already! Go ahead and get your copy from Amazon India and enjoy it. All the best! You can get a copy of the book in digital or physical edition by clicking the link below:
Buy the book from Amazon – click here for Amazon India
Review by Amit Mishra for Indian Book Critics
Note: If you are reading this article in your mobile browser, you may be on our lighter website version. If you want to comment or view the full site, you can click here to browse the full site: Exit AMP
Alex Ferguson: My Autobiography | Book Review
Indian Book Critics' Critical Rating
Summary
Alex Ferguson: My Autobiography is an amazing book that any football fan would love to read… back to the memory lanes when United was learning to stand on its feet and then had the best run of their history!