Anuj Tikku's travel writings are very famous among travel enthusiasts and there is no question about it. He has been travelling around for some time now. Well, travelling is something that doesn't ring one's ears until it's something huge – how about travelling to Antarctica then? Exciting, isn't it? Anuj Tikku's book 'Antarctica's Diaries: A trip to the beyond' is a record of his journey to the land of Antarctica in 2017. The book or the travel diary begins with two initial articles (or entries) by Kavita Kumble, a fellow traveller with Anuj Tikku on that trip that included many others from different countries. After Kavita's entries, Anuj Tikku takes over and he walks us through various sights and settings in Antarctica and lets us enjoy with his photographs and textual descriptions.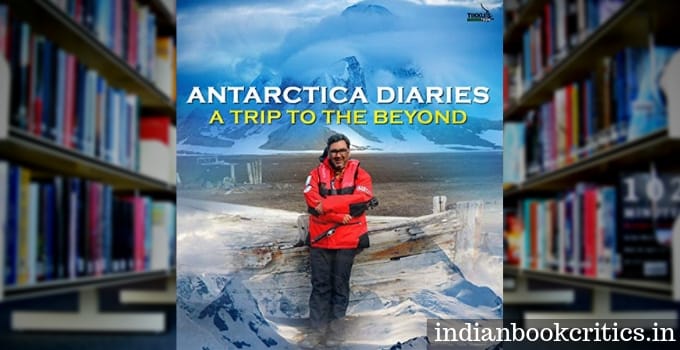 The author describes the most important and the most beautiful scenes that one can enjoy witnessing there. Right from the blue whale to the innocent penguins, Lemaire Channel to Paradise Harbour, the monumental, historic and important Shackleton's Hut… Anuj has described almost everything that a person raving for an adventurous trip to Antarctica might like to see.
The book also contains historic, scientific and otherwise details wherever required. The author has been very careful about his precision to let the readers know – how, what and when…
"Steeped in Shackleton and whaling lore, covered mostly in glaciers, South Georgia explodes with life: king, Gentoo, and macaroni penguins, enormous elephant seals and a thriving fur seal population."
When beginning the chapter that says South Georgia Island – Ice and Isolation, Anuj begins by writing these words. If you read it just once, you will realise that the information comes in the best possible way… easy to understand and too easy to comprehend. And this is the thing that will be frequent in the book Antarctica Diaries.
Images are also from various sights – people, Anuj Tikku himself, boat, whale, penguins, seals and so on… mountains, snow, rivers, islands… you will, as a curious reader, have many things to witness without knocking the doors of Antarctica.
To make the travel diary further entertaining and also humorous, the author has mentioned the episodes of his lost camera and gear bag at Rome Airport and the whole eventful days spent in bringing that bag back to India. Readers will enjoy that too.
Anuj's interaction with fellow travellers is also worth reading. For a reader interested in travelling, the book is happening and full of details. It might work as your compass to decide whether you would love being in Antarctica or not and I am sure you would love to! Before you make your plans, do read this travel diary by Anuj that also contains all the details – sum, flights, stoppages and destinations… All the best! You can grab a copy from kindle store on Amazon:
Buy the book – click here to get a copy
review by Ashutosh for Indian Book Critics
Antarctica Diaries - Anuj Tikku
Indian Book Critics' Rating
Summary
A complete, information-packed memoir of Anuj's travel to Antarctica… you will enjoy reading it and unfolding the snows that cover beauty and secrets…