Book: Evergreen Truths Through My Critical Lens
Language: English
Author: Dr B. Sridhar Rao
Published by: Notion Press
Publication Year: 2019
Formats: Paperback
Genre: Non-fiction, Semi-Autobiographical
Reviewed by: Amit for Indian Book Critics
Rating: 3.3/5 stars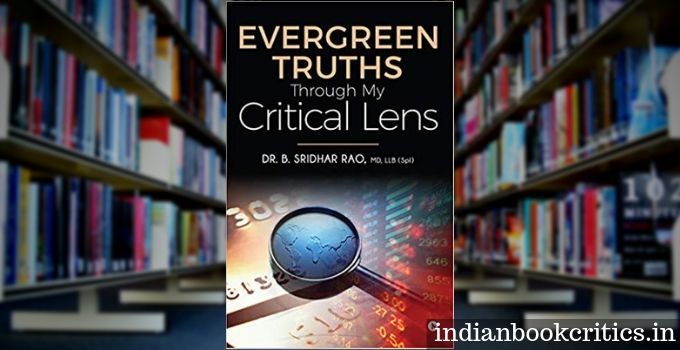 Though the author has given his book a title that says 'Evergreen Truths' it's debatable (among the ones who have read the book) how much of whose truth is evergreen. Nevertheless, Mr Rao may escape the perjury with the suffix that he has added to his title – through my critical lens. So, the author is writing 'what he believes for himself' rather than some universal belief system. I began reading this book this Saturday, already late with my assigned schedule. I finished it within three days and you can easily understand that an almost 500-page book must be interesting, in spite of being non-fiction and personal, and then only someone can finish it within 3 days!
Dr B. Sridhar Rao, the author, has shared his opinions, memories, vision and interesting 'truths' in his long book. He has also raised questions, very interesting indeed, and answered them for the readers who are curious enough to know more. There is not any certain pattern that is followed by the author. He has just gone random and you will see it when you begin reading the book. The chapters are entirely isolated and just random. And it doesn't bother the readers at all because chapters are somehow interesting.
The book has 25 chapters. As I said earlier, the chapters are random, randomly ordered and just disconnected with each other. It begins with 'shades of love' and end at 'sudoku' via many different stations like insurance, laughter, taking care of elders, Ramayana and Mahabharata and so on… believe me, chapters are randomly beautiful. However, you might agree or disagree with the author's 'truths'. For example, Mr Rao believes that Yudhishthir should have conducted himself in a rather different way than he actually did. On the same page, page 354, there is a mistake in printing – Sita has been written instead of Draupadi as the wife of Arjuna and Pandavas. Likewise, Mr Rao doesn't agree with the 'treacheries' of Sri Krishna – him saving Arjuna from Karn's divyastras. However, as he tried to make it clear on the cover itself, these truths are his truths and not meant to be our truths…
Overall, this is a good taste-changer or mind-rebooter for the readers. The random book with random ideas can be very useful in coming out of the regular task of reading regular fiction and finding nothing new in the task. Language is simple here and the same stands true with the narrative and content choices. Dr B. Sridhar Rao has made sure that every reader can find something according to his or her choices in this book called Evergreen Truths Through My Critical Lens. You can get a copy from Amazon India by clicking the link below:
Evergreen Truths Through My Critical Lens
Indian Book Critics' Rating
Summary
A good taste-changer non-fiction by Mr Rao that takes the readers through random ideas in isolation. You will enjoy reading it if you begin once.