Indian Book Critics tells you why you must have the book by Oxford Press – Oxford Dictionary of Proverbs. We have written about this book, and this review will surely help you make the decision over this wonderful book.
Who does not like proverbs? Proverbs are like a regiment of words which cruises but with a careful aim – not aimlessly! Proverbs say a lot and mean a lot and talk lesser than the usual words which we use to form our sentences and hence the arguments can be bettered instantly with proverbs. Nevertheless, using proverbs unwisely and too frequently can ruin the moment and the person who uses it might lose the grip over his audience. Be wise and remember that a little pot is soon hot!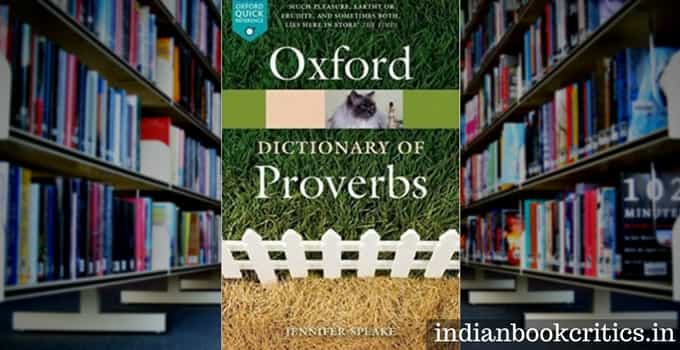 So, are you also interested in proverbs? Do you know a lot of them? However, do you also know where did the proverbs come from? Do you know the origin of most of the frequent and standard proverbs that we hear or read every day? If you are interested in the knowing the historical evidence of the first use of many of the proverbs (and many means many, a dictionary fill of them!) then we have got some interesting resources for you. You might be highly interested in the Oxford Dictionary of Proverbs.
The Oxford Dictionary of Proverbs isn't the typical dictionary which will only explain the meanings of proverbs to you. It will also trace the origin of the concerned proverbs you are interested in. It will be highly effective because the storehouse that this book is, it contains over 1100 useful proverbs in the English language which you might be knowing or not. When necessary, it will explain the idea along with tracing the first possible use of the proverb you are reading. For a simple example, let's check a proverb which is very popular –
"Give a man rope enough and he will hang himself"
The idea is evident and the wonderful information that you get about this proverb in the Oxford Dictionary of Proverbs is amazing. You get to know that it was used by Thomas Fuller in his book Holy War and the expression was, "they were suffered to have rope enough, till they haltered themselves." And you will find some other uses of the proverb in other works by prominent personalities. This way, you don't only get to read the origin but also get to understand the possible idea behind the proverbs – first-hand idea!
So, if you are more than interested in proverbs, you must have this wonderful dictionary which will let you know the origin and the inception of the proverbs which are rather popular today. You will be quite ready to impress your audience if you also tell them the stories about how certain popular proverbs were invented and in what context.
Get your copy of this interesting and useful book from Amazon today and impress yourself as well as others with the knowledge it offers.
Oxford Dictionary of Proverbs – Buy from Amazon now
by a contributor to IBC
Oxford Dictionary of Proverbs - reviewed
Content

Research & Presentation

Choices & Usefulness
Summary
A must-have book for the lovers of English language and those who want to enrich their communication with the use of lucrative proverbs with command and potency.