And thus ends the book SHE by Dr Sarika Jain:
"… because empowered women who reach tough positions make choices not sacrifices."
It strikes very forcefully and even the rigid minds will be stirred to move into the right direction – a woman is not to be guided or directed. Just encourage her and she will achieve what her heart desires.
The book by Sarika, SHE – a message for those who belittle girls, has been published recently. In the title, SHE stands for Stop Hurting Me Every Day. Dr Sarika Jain, the author, is a woman of multi-talent herself and that's why she is fully equipped to understand what a woman can achieve when she is given freedom, respect and space that she is entitled to.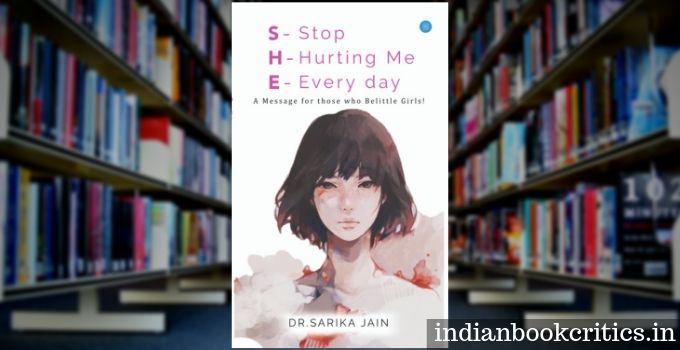 This is the very first book by Dr Sarika Jain and she has shown to the reading society that her words are weighed to the most and her sentences are sharp enough to bring forth the ideas which we need our societies to think – well, at least in this 21st-century when we dream of becoming a new India with opportunities and space for one and all!
The major issues that Dr Sarika Jain has raised in SHE are child marriages, rape, women safety, questioning women over morality, dress and career choices and many others that are important. And it comes very impactfully because the language used by the author is not only easy but persuasive at the same time. As a reader, one will certainly be moved! Writing about the horrors of child marriage, Sarika tells her readers:
"The parents spoil and destroy the future of their girl child by making her a woman."
Simple. Sharp. Pointed. True!
Well, the author has made her case very wonderfully. She has made a count of the problems that women in India actually suffer. Even after laws are there in the books to stop the crimes and injustice, some are taking place on the ground regularly. Sarika is right in asking – what's the use of these laws then? The dowry law, the child marriage law, the domestic violence law and so many others are there but no use!
Not only a case of fear, but Sarika has also listed examples of women and girls who stood against violence and injustice and fought their ways out to success. That's a great way of dealing with issues as sensitive as this. Women need to know who are the examples they should follow and who are the examples they should be avoiding.
And to conclude, critically, the book by Sarika is a long but worthy book that I enjoyed reading. Her language has been at peak and her narrative has been moving and consistent. Though the very first book by her, it is to be noted that she has picked a theme that's the need of the hour! She deserves an applaud for SHE! You can get a copy of her book from Amazon India right now and read for yourself what message Sarika has for girls and boys, men and women out there:
get a copy of SHE – buy from Amazon India now
review by Alka for Indian Book critics
SHE: a message for those who belittle girls
Indian Book Critics' Rating
Summary
Strong… well-picked theme and the idea executed wonderfully with a balance in the narrative… the debut by Dr Sarika Jain has been impressive!
A must-read for those women and girls who are looking for examples to follow and to understand their rights and space.