Book: Tatva, Soul & Karma
Language: English
Author: Tanuj Lalchandani
Published by: Author
Publication Year: 2019
Formats: Hardbound, colour glossy paper edition
Genre: Non-fiction, Spiritual, Religious
Reviewed by: Amit for Indian Book Critics
Rating: 5/5 stars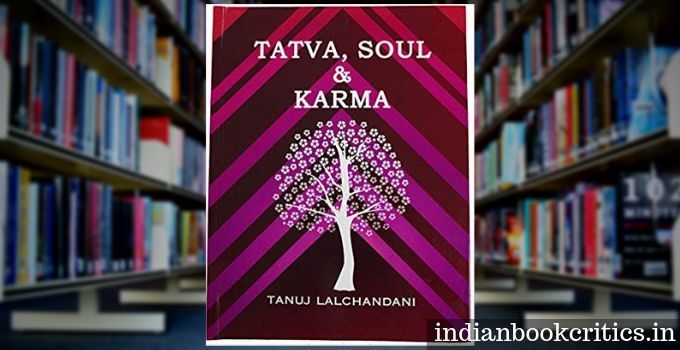 I remember having read Tanuj Lalchandani's first book on Zodiacs. This is his second book and it also follows the same pattern but extends the domain of Tanuj's writing from zodiac signs to Gods and Goddesses and methods to worship them properly. In Hindu Dharma, Gods and Goddesses are very important and equally important are the methods which we use to please them. If one follows the methods properly, life becomes happier, satisfied and open to positive vibes.
"This book not only focuses on improving karma but also encourages us to focus on the positivity around us. We are surrounded by a lot of positive energy and by focusing on it, we can get the best out of it."
Before I get into discussing the content of this book, Tatva, Soul & Karma, let me tell you about the book's edition. This one takes the design to a further level compared to Treasure Trove of Zodiacs. Hardbound edition with premium glossy pages and designs (images and content) make the book desirable at very first glance. If you believe in Dharma and Gods and Goddesses, you are simply going to buy this book instantly after you look at it for the first time! This is my simple assumption and my assumptions are seldom wrong in terms of books… However, I will tell you more about the content so that you actually have an idea of what are you going to get inside.
There are 15 chapters in the book and 9 of them are about Gods and Goddesses you can learn how to worship them properly and how to please them for a better life. The remaining 6 are about various religious and spiritual aspects of Hindu Dharma – Astrological Remedies, Rudraksha, Nature and Astrology, Karma, Horoscope Matching, and Yoga. These chapters tell the readers about the importance and depth of the titles mentioned above. Rudraksha chapter details every kind of Rudraksha and why to wear them. It also tells the readers how Rudraksha came into existence from the tears of Lord Shiva. Likewise, the chapter on Yoga is very detailed and tells the readers about the importance, the significance of Yoga in our lives and the impact of it.
The methods told by the author in this book to please Gods and Goddesses by worshipping the planets ruled by them are very simple. One more thing is remarkable about this book. The author has given certain details about Gods and Goddesses being discussed – you can read about all the 10 avatars of Lord Vishnu; you can know about the birth of Hanuman; you can read about various perspectives of Lakshmi, Shiva, Saraswati and Ganesha and so on… in short, this is a perfect book for the religious people who want to know how to worship certain gods and goddesses properly. Other than reading the book, you can also get in touch with the author himself to know more about your religious and spiritual issues. You can get the details about the author in the book itself. Get a copy from Amazon India by clicking the link below:
review by Amit for Indian Book Critics
Tatva, Soul & Karma
Indian Book Critics' Rating
Summary
Are you a religious person? You are simply gonna buy this one! Once you begin reading it, you will understand how to keep gods and goddesses happy and bring more positive vibes in your life. Do get your copy!