Reading books of fiction mostly based on imagination and anticipation has given me this callous attitude towards reading books by newcomers whom I seldom found to be promising these days. And much to my welcoming shock, I have recently read a book that can be called a realistic account of a real life lived by a real person named Himanshu Saxena – The On Side of Office. The cover is witty and attractive with a switch pushed to on and OFFice giving us an idea that most of us often go through – the boring life of the office. Why don't you take a look on the cover in the image below?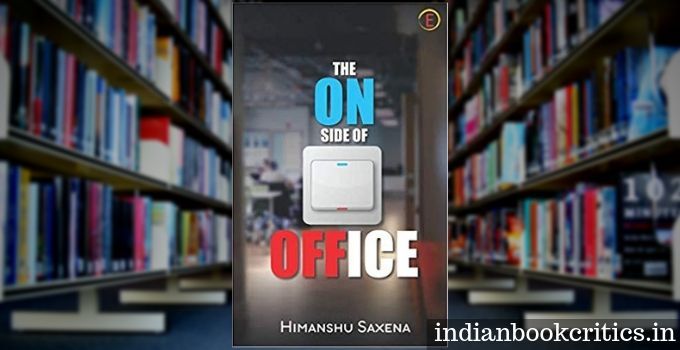 The experiences of Himanshu Saxena that he shares in this book are as mixed and interesting as his being is. He was born and brought up in Delhi. His family comes originally from UP and his mother speaking a mix of Haryanvi and Hindi and Himanshu being married to a Punjabi wife… isn't that interesting? You can get all the information in his preface and introduction.
There are 11 chapters in the book and it begins with the first day at the first job and ends with resignation and exit. A complete conclusion of something that begins with joy and anticipation mixed with fear and uneasy feeling. However, the author has written this book not only to share his work-place experience of 16 years but also to share with the daily office-goers the pieces of advice that can make their life at work amazing and eventful. As the title suggests, The ON Side of Office, you can easily anticipate what the author might be sharing with you in the book!
Himanshu has shared his personal experience at the workplace – his relationships with colleagues, the boss, the HR, the canteen guy and even the chowkidar or the door-guy. This is a one of a kind book that emphasises on building a positive atmosphere in the office and spending the days at work being enthusiastic and energetic. Chapters like Team Building – 'For the Spirit of Oneness', Celebrations @ Office and Office Canteen very wonderfully tell the readers what miracles can be pulled off in the office premises by being positive, simple and straightforward.
Taking criticism positively and taking appreciation just as encouragement is another gem that the author has shared in this book. Also, there are certain difficulties that we all face have been shared honestly with the readers. Difficulty in getting leave requests approved and also the troubles of meeting rooms when you fail to accomplish what you were expected to do by the boss or a superior in the office.
I will not say that this is entirely non-fiction. The book has been written very beautifully that it feels like reading an interesting novel in a first-person narrative. To make the book further useful, Himanshu has also added 'Food for thought' sections in the chapters as well as a concluding set of ideas at the end of each of the chapters. This certainly sounds like a textbook or at least a guide book – well, let it be that!
To conclude, the book has been a good experience as someone who goes to the office, I can relate to most of the points Himanshu has raised. I would love to recommend this book to many of my friends and colleagues. You can also get a copy and read it for yourself. Here is the Amazon link to buy the book:
Buy Himanshu's book from Amazon India – Click here
review by Ashutosh for Indian Book Critics
The On Side of Office
Indian Book Critics' Rating
Summary
It's not boring… animated and moving… the author has shared his personal experience at the workplace but has made them interesting enough to keep the readers engaged and entertained and also advised.