Book: The Subtle Art of Not Giving a Fuck
Language: English
Author: Mark Manson
Published by: Harper Collins
Publication Year: 2016
Formats: Paperback, Hardbound, Ebook
Genre: Non-fiction, Semi-Autobiographical, Realistic, Self-Help
Reviewed by: Amit for Indian Book Critics
Rating: 4/5 stars
The world is complex and we sometimes (or more often) tend to make it even more complex. Many scholars, poets and thinkers have countersigned the fact that Life is simple, straightforward and easy to live but we, with all our wisdom and experiences, make it complicated. And that leads to the situations where we, poor human beings' cannot find our ways out of difficult situations that we create around us. And then was developed the domain or motivators, soothsayers and Gurus. When we need motivation, we go to them, watch them, listen to them or simply read them.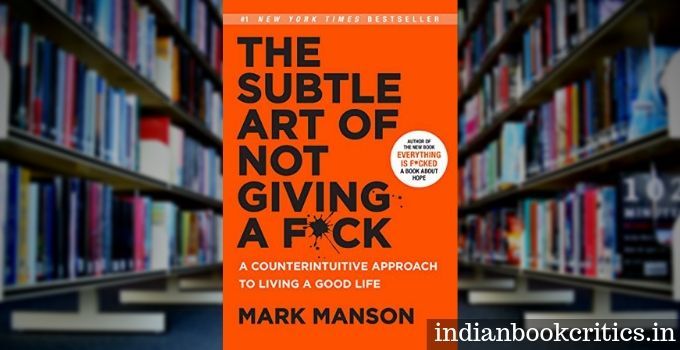 Self-help or motivation is the genre that sells a lot and also impacts the lives of readers more than any other genres we might have or would read. Nevertheless, there are also various categories within this genre called self-help. Most of the authors keep repeating what we already know – think better and live better. Well, that's the biggest secret anyone can tell you but simply reading that might not make our lives better. Nevertheless, the current generation of self-help authors has made a difference. The book The Subtle Art of Not Giving a Fuck (though the title might trigger classic thinkers) is a different approach to the problems of life. It suggests the readers lead a simple, ordinary and casual life while recognising the situations wisely. Mark Manson is an author of this generation and he has resorted to the art of telling stories instead of giving himself into a pose of Buddha and sermonising while he knows nothing!
About the book:
Divided into nine chapters and spread over 200 pages only, The Subtle Art of Not Giving a Fuck is not the book that will teach you or guide you or motivate you. It will simply tell you and recognising what it tells is solely at your disposal. Mark Manson has shared what he felt, experienced and learnt. This is not a stereotype self-help book that will talk some philosophical ideas in a very tiring way and massage your ego of reading a 'loooooong' book. It is not a conventional book that will lead you to a journey into the fancies' land that can never be translated into reality. A major chunk of philosophical ideas can not be introduced into the practicality of real life. In order to solve the problem of real life, we need to have some practical cure. This book by Mark Manson 'tries' to make an effort in the same direction. I will not say that this is the best I have read; however, I would certainly deem it better than many others I have read!
The book talks about acceptance and moving on. Where most of the books talk about being positive all the time, it's a lie because we can not be the same all the time. A heart full of positivity can end up with lots of negativity. Unnecessary positiveness leads to too much expectation and that results in frustration and anger. That's why some scholars said, "Expect nothing and you will be never disappointed." Mark has rightly observed these things here that accept the things as it comes to you and move on because escaping is not a solution.
Our mind has been programmed in a way through commercial ads and other books that we want everything without expecting reality. We want to to be the best and treated in extraordinary ways all the time. We want wonderful vacations, costly watches and cars and these things, when not achieved, come as frustrating experiences into our lives. It's good to expect more from your life but it's better to be ready to accept what comes your way rather than being sorry later! And all these things have been conveyed in the simplest way I have read in any book – through different stories. The author has connected to the minds and feelings of the readers and it's really nice to see it happening this way!
Yes, there are also flaws in this book and we all know that any work of art is not perfect. There is too much of 'himself' present in the book and that directly contradicts what Mark wants to say. His stories are well-picked but his narrative begins flirting with himself at times and that might irritate the readers without a doubt. Nevertheless, I won't say that these flaws make the book any less worthy! Just accept it and enjoy it!
I would certainly recommend this book to the young readers especially. Mark Manson's The Subtle Art of Not Giving a Fuck can also be your art. You can embrace it or mould it according to your style and lead a simple life that fears nothing because it has the accepting ability to embrace virtually anything that comes the way! Do read this book! Get a copy from Amazon India – click the link below:
review by Amit for Indian Book Critics
The Subtle Art of Not Giving a Fuck
Indian Book Critics' Rating
Summary
A must-read for the youths… an avoidable read for the grown-ups who can decipher between things themselves. Hyped? Yes! A worthy one? Yes. Read it to decide.