There are some life-changing books that can transform you into a man of energy. In the time of desperation or in frustration we often fall back to reading and reading the books that can inspire us and give certain motivation to come out of the adverse situation. Some rare books hold these kinds of power that can lift our mental strength to conquer the most difficult battle called 'LIFE'. Many authors tried many approaches to provide us with the best arguments. Dr A. P. J Abdul Kalam, the former president of India and a visionary to whom India owes an abundance of gratitude, is a great name in the list. He has written his autobiography 'Wings of Fire' in which he has discussed more the youths of today rather than his own life. His autobiography is a life changer for students, youths, grown-ups and even elders. He has not written any unpractical thing or any hard psychological theory or lets us slip into the iron-logics making us understand the gravity of life. He rather chose to show us a mirror with humility and normal arguments that we often ignore in our daily life.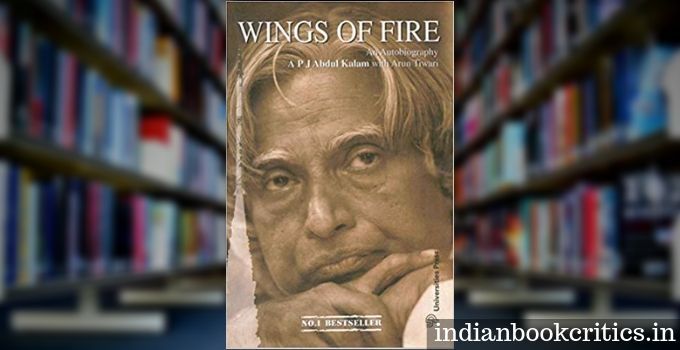 About the Author: 
Dr A P J Abdul Kalam is known as the missile man of India. Wings of Fire is his autobiography where he talks about his achievements and tries to relate those with common people and make them aware and kindle a light of hope deep inside their hearts. You know why Dr Kalam is so famous. Because he never used to talk about his miseries and struggles rather he talks about what he learned from his failures. He was a passionate learner and a man who never quits trying. He has tasted failures so many times in his life but failures made him even stronger to accomplish the goal. 
The Book:
The Autobiography is a testimony to those hard times that the great man had faced. His childhood, his education and difficulties around it, his struggles to get into a college, his failure to become a pilot and so on… In this book, he tries to connect with the youths of today and guide them towards learning some wonderful lessons. A line that motivates me all the time from his book is, "We are all born with a divine fire in us. Our efforts should be to give wings to this fire". We all have the potential to do something and create something bigger. We need wings to fly and our wings will be hard work, honesty, patience, calmness and energy of never-ending. 
His life is like an open book which anybody can take a glimpse and learn something new every time. Desire is like a current that flows constantly in our mind and awakes us always to achieve something. Dreams are not those which we see while sleeping. True dreams are those which never let us sleep. 
Wings of Fire ignites the minds of Indian youths to make India even stronger in the field of technology. It proposes an India that is strong, on its own and fully-equipped to lead the world towards peace and a common goal of global harmony. Kalam's book is a must-read for teenagers, especially! Teenage is the period that shapes the life of a people and if teenagers are inspired by the visions of Dr Kalam, we can safely trust the India of the future! 
Conclusion: 
Dr Kalam is an inspiration for youth across the world. He has shown how we can change our fate through hard work. He was a great nationalist, patriot and a brave son of mother India. The book is not just the journey of Dr Kalam but also it's the journey of Agni, Prithvi, Akash, Trishul and Nag-missiles that have become household names in India and that have raised the nation to the level of a missile power of international reckoning. And the autobiography of this great and brave person who has made India a world power in missiles works must be read by as many people as possible. Let's get into the depths of failures of Dr Kalam and learn how he managed to get out of all this and lead our nation into the future that we live today! A must-read book for the Indian youths. 
Get a copy – click here to buy the book – Amazon India 
review by Amit for Indian Book Critics 
Wings of Fire by Dr Kalam
Indian Book Critics' Review
Summary
A must-read… inspirational and truly wonderful in all possible ways!