Few Things Left Unsaid was the first novel by Sudeep Nagarkar that later on became a best seller in the contemporary romance genre. The novel came out first in 2011 and since then, it has had a few editions. He used the current trend of fiction writing established by Chetan Bhagat and Durjoy Datta and others and wrote a novel that revolves around the boy-girl relationship, lust and life struggle. Few Things Left Unsaid is the usual story for teenagers and youths with a non-serious love for literature that satisfies their leisure and offers them quick solutions to their emptiness for the time they are reading the novel.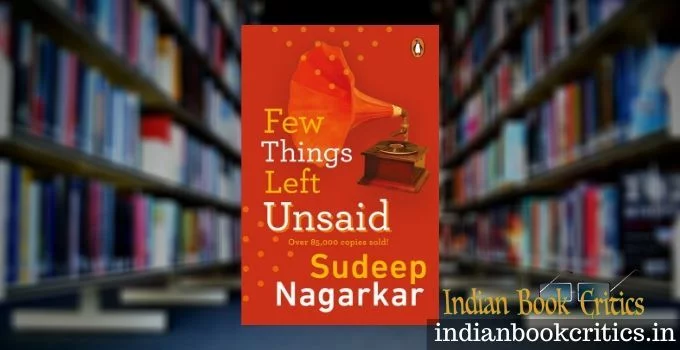 The Book:
The central protagonist of the novel is Aditya, who is like usual ordinary teenagers not having a goal in his life. However, he has made one thing clear that he will not pursue engineering. But unfortunately, he ends up taking admission in an engineering college. He was not at all interested in engineering and takes admission only for the sake of his parents' wish. Yes, those who have read Chetan Bhagat's novels might remember a few resemblances and that is just fine! However, he was interested in searching for true love and he finds it in his class. It is naturally strange that these novelists portray a youthful attraction for the opposite sex in such a big, grand and GREAT way that their readers must think if there is anything better to do than indulging in being with someone… strange! 
Riya, the female protagonist of this novel accepts the proposal of Aditya and the love story starts as usual. They started to bunk classes, going to cinema halls, a couple of bed scenes and the story goes on. But after sometimes, true love comes to a halt and fights started and they finally come to the point of breaking up. They tried to reunite again and the things go like the price of Reliance Industries share in the current, COVID-19-struck market, up and down. Up and down and continuing. This is the story in a nutshell and you seriously don't need to be in any confusion about it. I have read it entirely and I have been left impactless. If there is anything that holds merit in this novel, that is better those few things left unsaid… yes. 
Critical Insights:
To be honest, by reading the title itself, one may have made the impression that the novel might be a little different compared to the usual boredom offered as a piece of fiction in the romance genre. However, that impression will be deceived the very next moment you venture into the text of this work by Sudeep Nagarkar and you are left with a 'meh' face on you! In the recent jump in numbers that publication industry in India has seen in the novels mentioning college love stories, one thing needs to be made very clear that only 2-3% of those titles may make a cut into the category of quality campus novels. Otherwise, all of those published novels are nothing but a one-hour adventure. Find the scenes, take snapshots, share on your social pages and privately transfer to your friends on WhatsApp and other messaging mediums. Sit back. Relax. Crack jokes. Over! 
The novel has been very poorly edited even by the Penguin guys. It could have been cut short by almost a quarter of its original length. The language is sub-standard or even below that. The uncalled for localisation of the narrative has doomed the novel to a further low. It reads mostly like a teenager narrating his romantic adventures to his club sitting in a wine-bar. PLEASE NOTE THAT CONSUMPTION OF WINE IS DANGEROUS, also prohibited by law for people below 21. 
Conclusion:
This is a story to which most of the youths will relate easily. Because Bollywood has already made a perception that college is only for fun and romance and education has nothing do in the colleges, the author has tried to convey the same in more than 200 pages. It could have been done less than 10 pages if he honestly just narrated the story. Is this a recommended read by me? No. Are you sure you want to read it? Your call! If you want to read what other readers have said about this book, you can navigate to Goodreads or Amazon. Here is the link to Amazon: 
Buy the novel or know more on Amazon India 
Review by Amit Mishra for Indian Book Critics 
Few Things Left Unsaid | Book Review
Indian Book Critics' Rating
Summary
Few Things Left Unsaid is a novel that is best left unread if your reading habits, choices and standard are above average. However, if you like reading cheap romance and novels that do not go beyond hanky-panky, it is good for you. You can be your best helper here.