Book: The Great Indian Bust
Language: English
Author: Rishabh Bhatnagar
Published by: Amazon Kindle
Publication Year: 2019
Formats: Kindle Edition
Genre: Coming of Age, Autobiographical
Reviewed by: Amit for Indian Book Critics
Rating: 3.5/5 stars
I have read bildungsromans in the past. A few were highly appreciable and a few were bestsellers. Today, I will review one of the recently published Coming of Age fiction which does not show any particular trends of bildungsroman but does let the readers know about the shape that life takes eventually. In contemporary Indian English fiction, while the trend is a fixed narrative based on external and internal romance, there are authors who dare to try different and carve their differences in bold letters. Rishabh Bhatnagar is one of those talented, young and ambitious authors who decided not to follow the tail of romantic authors who seek easy favours from the young readers. Rishabh Decided to write something different and he did write something different – a novel that depicts how a child grows with the weight of expectations and how he reciprocates to it.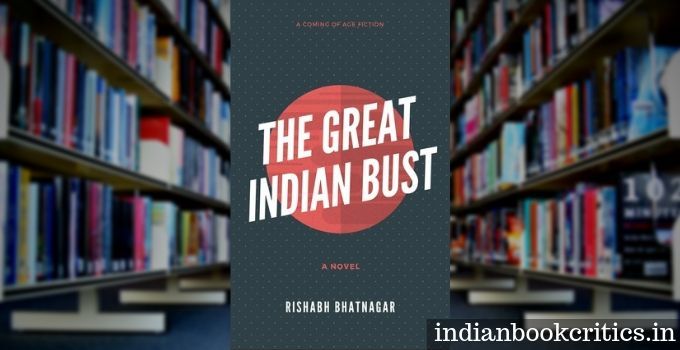 Before you begin reading it, let me tell you what you might expect from the novel. There are simple elements in the novel:
First-person narrative
Simple language
Autobiographical elements
An honest narration of events (with obvious polishing)
From Grandfather to Grandson depiction
A glimpse of the 90s and early 20s era
School life and usual school stuff
Parent-children relationship
Teenage love affairs and break-ups
Now that the readers of Indian Book critics know what to expect from Rishabh Bhatnagar's novel The Great Indian Bust, let me share my quick opinions and a review of it. If I say I enjoyed reading it a lot, that will be a lie and I won't do it. However, if I just remove 'a lot' from my previous sentences, it'd be a proper justice to the efforts by this young man. The novel is indeed enjoyable because it offers something different in a different way. Rishabh could have written an autobiography instead but that might not include the details that this novel has included.
It will attract teenagers and early 20s youths because there are details of life in those days – inside a school, in the society, in a family, the struggles, early days' friendship, conundrum whether it's love or not, how to move ahead after breaking up with your crush and so on. The content is personal and limited but the delivery of this content makes reading the novel interesting. As a reader, one will certainly feel like being on a journey back in time wherever the author takes you.
On the critical side, the novel justifies the tag of Coming of Age fiction. Rishabh Bhatnagar, even being only two novels old, has been better in writing this one. Though there are the points he will have to emphasise as he gets older and better. For example, there is almost no plot in this novel except for the limited circle of life that the protagonist lives. The theme does not hold on to any particular aspect of the protagonist's life and it might work rather well because the author has tried to be honest with his readers instead of adding a 'certain flavour' to his narrative. The simple language might work well with the young readers; however, to improve readership and to reach the intellectual readers, author will have to work on his language. And I am sure the story isn't complete yet and Rishabh will probably come with another part of this novel.
So, to conclude my review, I will say that the novel, in the form which it is, is suitable for being read by young readers, teenagers and youths who are expecting to read something worthwhile. It is romantic, wise, realistic and also intellectually charged. It does not offer things in only one certain direction. It moves, bends and turns as you expect one's life to do. And this randomness is what makes Rishabh's The Great Indian Bust a novel to be read and enjoyed and also appreciated – not only because he has tried something different but because his writing deserves this applaud! You can get a copy of this novel from Amazon India:
Buy the novel – click to get a Kindle copy
review by Amit for Indian Book Critics
The Great Indian Bust
Indian Book Critics Rating
Summary
Within a limited purview, the author has done everything to make his Coming of Age fiction, a very personal one, interesting enough to be enjoyed by young readers… let's give space to the young talent with potential!