Book: The Palace of Illusions
Author: Chitra Banerjee Divakaruni
ISBN: 9386215659
Publication: 2012, Picador
Pages: 360
Price: 205 RS (Ebook)
Reviewed by: Nidhi Parikh for Indian Book Critics
Indian English literature has been expanding. Its expansion can be traced long ago when writers in Bengal began writing their literature, self-obsessed were a few and a few others we so profound that we have seen figures like Swami Vivekananda and Tagore. Coming forward, the novelists and poets like Vikram Seth took the charge along with the likes of Amitav Ghosh and others. However, there has been an undercurrent in Indian English literature that has produced authors who are almost rebellious in their approach to the genre they write – be it fiction or non-fiction. Chitra Banerjee Divakaruni is one of such novelists, an Indian-American who was born in Calcutta and went to live in the United States, has a very different, with pros and cons, approach to the literature she writes and the literature she reads (perhaps).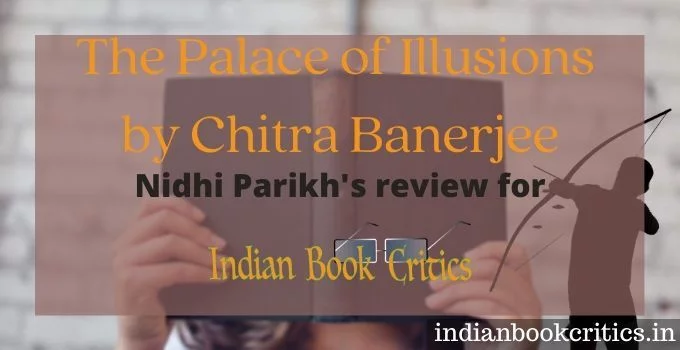 Coming to her novel, The Palace of Illusions, this is a work inspired by and completely based on Hindu epic authored by Vedvyasa, the great sage in the Dwapar Yuga, the era of Bhagwan Krishna. I will attempt a review of the same. And I will do my best to do justice with the art of criticism, that is my part and also the art of fiction writing, that is her (Chitra's) part.
My love for Indian history and 'mythology' and more recently, the telecast of Mahabharat & Ramayan on DD National got my attention towards this book. We must have read many tales based on the prominent male characters of the great Indian epics Ramayana and Mahabharata, and also some of the stupid and absurd retelling from antagonist's point of view, such as Asura: Tale of the Vanquished, by Anand Neelakantan. However, this is probably one of the rarest opportunities that a story has rendered beautifully one of most the dominant female characters of a bygone era. An awe-inspiring book, that I thought before I began reading this novel, The Palace of Illusions, written by Chitra Banerjee Divakaruni, retells the tale of the timeless epic, The Mahabharata, with a modern, fancy twist, narrated from the point of view of Draupadi or Panchali, wife of the Pandavas.
I was in a complete state of statelessness for a couple of days after reading this novel. Though stretching it might be an exaggeration but I am still carrying the aftermaths in my mind. Not only that I have been jolted from the inside many times while I was reading this novel, I am more than shocked realising what it could do if a reader is not intelligent enough to understand that this is just a work of fiction! Though at times, the book reaches to a standard height of the art of fiction writing or just touches it and falls back to the level of absurdity with overstrung chords of emotional narrative, The Palace of Illusion is a novel that focuses more on the non-issues that its artist, the novelist has fancied to be more important than her major tale – the Mahabharat. It is to be accepted that the novelist has worked passionately on this book. However, only if that effort could be in a productive direction then the novel could have been an entirely different piece! Critically, the work of fiction can be judged by employing several literary theories and feminism being the best-suited one because the novelist could already have thought about it as she is a teacher of creative writing. However, even feminism cannot come to rescue this work out the mess it creates around it with so many ambiguities in the fictional protagonist herself.
The story begins at the childhood of Draupadi, a princess who is born from the fire and grows up in the palace of her father, King Drupad. Though there is much debate about the birth of Draupadi and her origins, it should be the prerogative of a fiction writer in the modern era who has asked for such liberties at the very beginning of her novel. She then takes the readers through her adolescents and to the day of her Swayamwar, for which her father hosts a contest to find her a husband, to her life as Panchali (the wife of five Pandava brothers and the queen of the most beautiful magical palace) and to how she became the reason of the great battle which broke out between the Kauravas and the Pandavas, the battle that saw clans obliterated, and millions dead and finally to her passage into another wold. The novel has been narrated in a first-person account by Draupadi and it naturally becomes evident, as you continue reading, that Draupadi in The Palace of Illusions is none else but the novelist's mouthpiece because the absurdity to which the thoughts of Draupadi reach cannot be the standard of Draupadi we grew up knowing by reading our scriptures.
Well, I could feel that being a female, perhaps, the author must have easily connected with the Darupadi's character, her desires and emotional turmoil she has gone through since the day she got married to Pandava brothers. However, the standards to which Draupadi's 'desires' have been pulled seem unrealistic, even beyond the imagination of the most stretched wire of a fictional account. There are the episodes that will bring any sensible reader's mind, who knows India and its history, to a halt where he or she will think about dumping the novel in the bin box and pull out something else to read, be it a head-hitting calculus or mind-frying Chetan Bhagat or just sensible past-present blend by Ashwin Sanghi.
The novelist has done grave injustice to the epic Mahabharat, her source for this novel. She has manipulated the episodes to suit her narrative. This is fine. However, she has almost taken the soul of the epic out of it to grind her egoistic axe and act inspired by some unacknowledged grudge that she might have against the leading Character Draupadi and Pandavas and even Lord Krishna.
To conclude this review of The Palace of Illusions, I will rest my case with a short opinion. Though Chitra's attempt might be taken seriously, unless it completes, her attempt cannot justify the digs she has made in the epic. The novel derails, even if we take it as a Draupadi's Mahabharat, from its core agenda that is Mahabharat. It only keeps roaming around and about the emotional excursions of Draupadi created by Chitra whos seems too childish at times. She thinks a lot and she thinks absurd. Why did the novelist give her mouthpiece a character so unworthy? A person (eventually a reader of this novel) who knows who Draupadi was and what kind of an adorable woman she was, cannot accept this 'Draupadi' portrayed by Chitra Banerjee Divakaruni as a character from Mahabharat. This novel only eulogises Karna more than what he deserves, intensifies (consciously) the relationship between Krishna and Draupadi so that the readers can be pricked and shows Pandavs in dim or just bad light. Why? I ask?
So, dear readers, make your decision wisely because I cannot argue against reading it. However, I can just caution you that before you make your decision regarding this novel, just make sure that you know what you are up to – Mahabharata that you can seldom fathom. All the best!
Buy the novel – click to buy from Amazon India
By Nidhi Parikh for IBC
The Palace of Illusions Book Review
Indian Book Critics' Rating
Summary
A very different Mahabharat that blows out of proportion with some absurd emotional cards played by the Draupadi that the novelist has created out of her imagination. It could be a very emphatic feminist version of Mahabharat only if Chitra could have genuinely thought about her protagonist… it failed as an epic and also as a novel!