Niraj Sharma's novel The Penthouse is a work that compresses human emotions and ambitions together and creates an amalgam that lets the readers sympathise with the central protagonist – Vito Ricci. Vito is almost a penniless person who thinks that no amount of honesty can buy him the luxury he wants for himself and so he compromises. He joins a gang of criminals in Italy (because he is from Italy) and begins his venture into the world of drugs and crime. Gradually, after winning the trust of his partners and the boss, he is given the charge to expand the fruitful criminal business in the USA and is sent to New York with a few other members of his gang. And there, the story unfolds.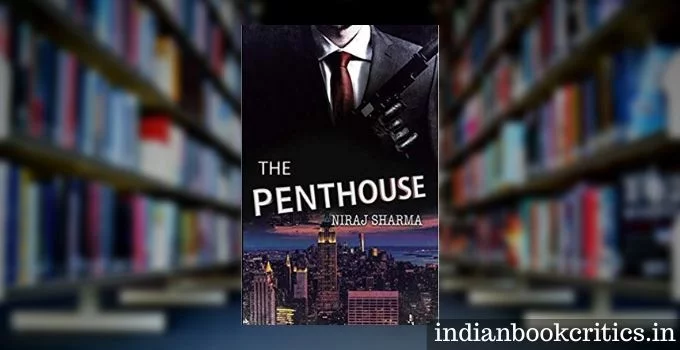 Niraj Sharma's writing has been powerful to a very great extent. He has been successful in engaging the readers with his plot that is cunningly crafted and moves swiftly most of the times. Rest of the times, the novel moves with a moderate pace and the events are mostly drug-dealings, money exchanges, arms and weapons, violence and also, on a different track, the love story between Alicia and Vito. 
Vito and Michael's adventures in the world of drugs, cocaines and violence moves very strong and sound until they find the reality that dawns upon them a little late. However, we all, like the author Niraj himself, know that the truth can be delayed but cannot be denied under any circumstances. The classic tale of betrayal and misplacement of trust always gets the back of 'the guys' involved in corrupt and unlawful practices – be it a movie on the screen or a novel on the table. When Vito moves into his own, very own, luxurious penthouse, he is very happy. Nevertheless, fate had other plans for them and not every morning is alike. The chapters in the novel mostly open with the lines having 'the next morning' at the very beginning. And it is customary throughout the novel. What does it symbolise? What does the author mean by it? 
The conclusion of the novel may be surprising to many readers as the novelist had some other plans in his mind. I will not reveal more than this that Vito and Alicia were having a kid and they were 'almost' happy with the way life was going. However, within the comfort of the Penthouse, there were a few who did not like what Vito was having. Conspiracies and backstabbing are very common in the world that is underground and the readers will find violence at the end with a few surprises. The characters, mostly are Italian in name and nature, gather to see the dance of fate. Who will survive? Who will not see 'the next morning'? 
I am happy with my reading experience. The Penthouse impressed me with its uniformity and subtle storytelling that could make a usual subject a master plot in the novel. However, there are a few shortcomings that the author might have denied in the novel. Repetition of a few words might irritate the readers at times but that doesn't happen more often. I am sure that many other bloggers writing for leading book review websites in India will see this issue differently but I thought the writer could have seen it off. Otherwise, the novel is very roadworthy and I am sure that the readers will like it. You can have a copy of this novel from Amazon India by clicking the link below: 
Buy the novel – click here to get a copy from Amazon 
Review by – a contributor for Indian Book Critics