Guys at Indian Book Critics have decided to come up with the book features of the new hot releases to be taking place in near future. As a part of the same task, we have come up with a very interesting title today. A Hindi novel written by author Prabhat Ranjan from Patna, With You; Without You, is a novel which tells the tale of love affairs, best friends, the supposed crimes, sins and redemption! We will hint you about the book without revealing so very much about it so that when you get your chance to read the book, you are not 'un'joyed!
With You; Without You: This is a novel written by author Prabhat Ranjan from Patna. This novel focuses on the issues which we face in our daily lives. We often come across the stories in a hear-say format which feature best friends ending up falling in love or a couple ending up just being friends. With You; Without You takes up the same theme of love, friendship, deceit and redemption. Prabhat Ranjan, the author of this novel, has very beautifully said it:
"Pyar wali dosti aur dosti wala pyar"
"प्यार वाली दोस्ती और दोस्ती वाला प्यार"
The novel, in short, focuses on the lives of three friends Rashmi, Aditya and Nishind. Amid rise and falls, fights and friendship, the story moves ahead. There are events like being and love and backtracking and then again coming back with different identity… So, the novel has it – suspense, love, friendship, youthful life and all that a young reader wants. Nevertheless, the novel also focuses on the philosophical and psychological aspects of love and friendship. What are the limits attached to being a true friend to someone? Can a couple in love be the best friends to each other?
Prabhat seems a matured author despite With You; Without You just being his debut novel! Look at an instance from his book:
"कोई भी इन्सान अपने आने वाले जीवन का एक भी दिन कम करने के लिए शायद ही सहजता से तैयार हो पर यदि उसे अपने बीती जिन्दगी से कुछ दिनों को मिटाने का विकल्प मिले तो वह अपने बीते जीवन के न जाने कितने सारे दिनों का नामोनिशान मिटा दे।"
Translating that into English will bring something like:
"It is highly doubtful that any person will agree to cut short even a day from the life about to come. However, if a person gets the chance to erase some of the days from the past, many days will be erased without a single hesitation!"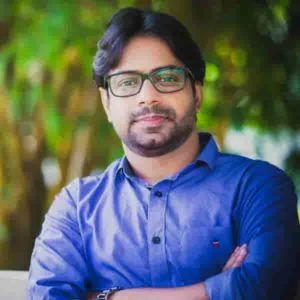 This single quote isn't enough to highlight the depth of Prabhat's writings. He has written the novel With You; Without You so wonderfully that I don't have any doubts about it becoming famous and the best seller! The book will be released sometime around the end of August or the early days of September. Guys, be ready, all those lovers of Hindi writings and those fiction freaks… the book will surely make your hearts sway to and fro! We will review the book very soon.