An Apology for Shakespeare is a kind of book which could not only excite a reader of fiction but also present a somewhat true picture of the current scenario, which, in this case, is the scenario of art and culture and poetry. This is a collection of poetry written by S A Joseph, a poet based in Kerala. Also an academician by his profession, S A Joseph has lamented the loss of poetic art in his poems and also warned the readers about the tightening grip of Lucifer on the humanity which is eventually leading is towards dishonesty, treachery, coldness towards goodness and sin. These poems, if I may say, actually talk to the readers much more than mere text could do ever!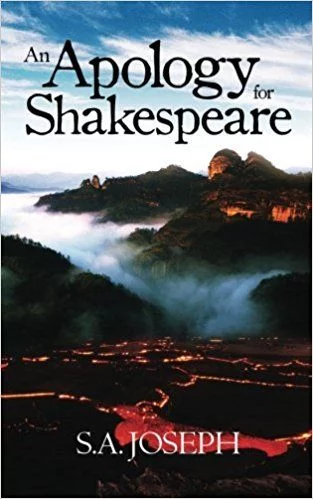 Major themes which come out reflected in the poems written by S A Joseph are life, God, Lucifer, poetry and many others. The poet cries for the lost 'Godness' in the world and he also weeps for the human beings who have been beguiled by the fallen angel Lucifer.
"Man is not perfect
Man has enough weakness
And who is responsible
For all these miseries?"
The poet has presented this collection to the reading public as a 'defence of poetry' which was inspired by his Guru. And this kind of defence was only published twice but in prose form – one by Shelley and another by Sidney. S A Joseph has rather chosen the format of poetry for his defence so that he could also show the world his art of poetry and also present his case for poetry itself. And likely to say, he as succeeded to a great extent in his purpose!
"See thou, my master one, pretty sight
Of my golden age,
Where human beings are not masters,
But they are all doctors
And post-doctoral persons."
In this beautiful collection of poetry, you will also find the instances like this where the poet is actually reflecting upon the grim realities of this modern age where things have changed dramatically and we have all but become the slaves of a mechanic set-up…
Critically talking, the poetry of S A Joseph might not seem at par with the greatest ones who have been the practitioner of this great art once. Nevertheless, the stuff which we find in his impressing poetry is stunning – the thoughts – the build – the analogies and the tremendous fusion of reality and imagination… all go to make An Apology for Shakespeare a collection of poems which should be read by any good reader of poetry who wants to explore the modern examples of art called poetry writing! The idea behind naming the book after Shakespeare by the author makes it amply clear that Shakespeare is surely the synonym for poetry for most of the poets. Read this book now and do leave your comments on the Goodreads page for the book to show your support to the poet who has done this amazing job! You can buy the book from Amazon links below. You can buy the rather cheap and portable Kindle edition for your Kindle reader or mobile phone or order the physical copy of the book if you love indulging with the text.
An Apology for Shakespeare: Kindle Edition 
An Apology for Shakespeare: Paperback Edition
review by Amit Mishra
An Apology for Shakespeare - S A Joseph
Theme

Art of Poetry

Reading Pleasure
Summary
A must-read book for those who want to read something new and genuine in poetry! Buy your copy now!