Ashish Dalal is a short story writer based in Gujarat who writes his short fictions in Hindi and often writes about love in various of its forms. He will be making his official literary debut with a collection of short stories (mostly exploring various dimensions of love) entitled Uske Hisse Ka Pyar (उसके हिस्से का प्यार).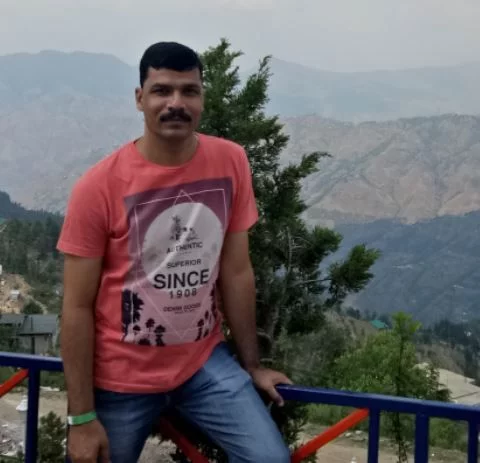 Unlike most of the Hindi authors from the generation previous to the current one, Ashish Dalal loves to have a straightforward view of the things he is writing in his short stories. For example, his short stories often explore the physical intimacies without any barrier as we all know that modern youth very much understands physical relations as a part of that broad concept called love. Ashish Dalal puts it like this:
"प्यार के साथ दर्द होने से ही प्रेम की गहराई पता चलती है। इस प्यार की व्याख्या हर एक इन्सान के जीवन में अलग ही होती है। युवा धड़कन के लिए प्यार में सेक्स समाहित हो सकता है पर सेक्स प्यार का पर्याय कतई नहीं हो सकता। प्यार एक अहसास है पर इस अहसास को पाने के लिए प्यार करना जरूरी है।"
And that's the reason most of his short stories based on love have something of everything and the readers feel the most of the tale being told.
Ashish Dalal also believes in the heights which Hindi literature can attain in the coming time. He loves to make his opinions count in the language he writes and he is proud of it. Ashish believes that Hindi literature has come very ahead of the place it was in the past. Today, Hindi is not only an entertainment language but also a language which can spread various thoughts and opinions on the far more serious issues prevalent in the society.
His upcoming book, Uske Hisse Ka Pyar explores the vital social and family and relationship issues and the author's views are very unique. Ashish writes about the family issues which arise when there is a situation of love affairs and love marriages. An excerpt from one of his stories featured in the upcoming collection goes below:
'ठीक है, अब तूने फैसला कर ही लिया है तो तुझे अपने मां बाप और उस लड़की में से एक को चुनना होगा।' गोविन्द ने आकाश को चुनौती देते हुए कहा।
'आप लोगों की वजह से ही आज मैं कुछ बन सका हूं। आपका बहुत अहसान है मुझ पर जिसे मैं जीते जी भुला नहीं सकता पर किरण के प्रति भी मेरी एक जिम्मेदारी है। मैंने उससे शादी करने का वचन दिया है। मैं अगर अपने वचन से मुकर जाता हूं तो उसके संग बड़ी नाइंसाफी होगी। आप दोनों ही मेरी जिन्दगी के महत्वपूर्ण हिस्से हो। दोनों में से में किसी को भी छोड़ नहीं सकता। आज आप दोनों ही एक दूसरे की ताकत बन चुके हैं। किरण मेरे बिना अधूरी है और मैं किरण के बिना, पर मेरे जीवन की खुशियां आप लोगों के बिना पूरी नहीं हो सकतीं।' आकाश अनवरत बोले जा रहा था।
The issue being discussed in the excerpt above is very serious and you will find it being dealt with equal seriousness when you read the upcoming short story collection by Ashish Dalal. He is one of those authors who love to venture into human relations and explore the various moments of joy and sorrows in the journey called life.
I am sure that with the arrival of a newer generation of authors taking to writing in the Hindi language will do only better to the Hindi literature which comes from the times of legendary authors and poets. Ashish Dalal is equally enthusiastic about his upcoming book and his future contributions to the great world of Hindi Literature!
by a contributor of IBC