In India, literature is booming with unprecedented speed. This organic rise in the consumption of literature in our country has given space for those who produce quality literature and also those who produce just literature. I always prefer and want to see, on the literary horizon in India, massive production of literary works that rise beyond the simple purpose of entertaining the readers and contribute something to the cause of nation-building. At the same time, if the works are also competent enough, loaded with literary qualities, the situation becomes even brighter. Is it happening as it should have been? Well, the situation is not very satisfactory but there are the authors who are doing their bits. One such author who is yet in the emerging writer category with a promising style and meaningful content is Sameen Rashid Khan, a Mumbai-based author who began her writing career recently with the publication of her three books in a short span of time, the recent one being Mostly Me which is a poetry collection.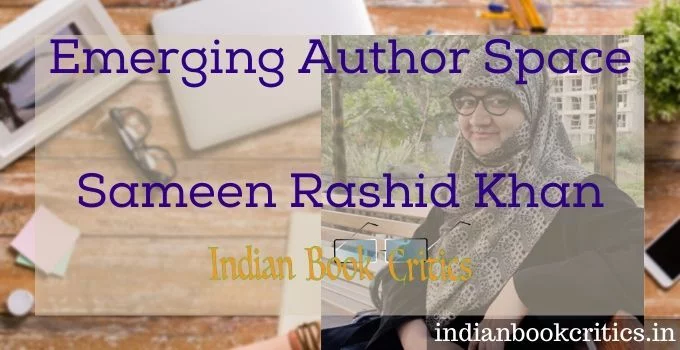 Sameen Started her publication journey with her novel, The Aftermath: A Suicide Story. This story takes the readers into the world of a teenager who goes through a traumatic experience after a friend's suicide. The seriousness with which the novel is dealt is very good to read. Moreover, the novel also concerns with the episodes that are mostly realistic. Making a debut in the writing industry with a serious story is something that most of the authors would fear to do today. However, Sameen decided to go against the easy trend and create a different identity for herself. While there are many others who would rather have begun by following the footsteps of authors like Chetan Bhagat or Ashwin Sanghi or any other author whose style is very popular, it's good to see that there are authors like her who dare to venture beyond the trend line.
Her second book was a collection of short stories of very different nature. A for Ambiguity, published in 2019, is a collection of short stories with open ends so that the readers can take their own conclusions home. This collection was liked by the readers who wanted to read something different and something that is not in the usual trend – romance. So, after writing a serious novel, she introduced her other side by producing short stories that were created with sharp conclusions to leave a long-lasting impression upon her readers. And recently, her first poetry collection and third overall publication came out, Mostly Me. This is a short poetry collection that is largely inspired by the experiences of Sameen herself. With the publication of this book, she has sent a message among her readers that she is ready to keep them entertained and also excited with publications in different genres, and, at the same time, offering them her serious writings that deal with various serious issues.
To conclude this article on an emerging author whom readers are going to read a lot in the coming years, let me also introduce her upcoming novel which is based on the women rehabilitation centres in India. Just like the first novel that dealt with a serious issue of suicide, this novel will also deal with an important issue related to women in India. She is completing her script at present and she will get it published soon. You can follow the updates on her website to know more about her upcoming novel and also other relevant news and updates. Link – Official Website
Story by a contributor to Indian Book Critics