Dear readers, today I am going to tell you about the author on whom the literary spotlight is focused now. She is an author who is going to debut with her memoir The Elephant Chaser's Daughter. Not many authors dare to debut with a non-fiction and also a rather honest and upfront account of their life story. Shilpa Raj has taken this challenge and decided to go to the readers with this book, The Elephant Chaser's Daughter, which will be launching officially on 28 July 2017. Shilpa Raj has become the first author from her community, the Dalits or the untouchables, to write a memoir! There are many authors from the Dalit community who are writing today. However, there are certain things which help Shilpa Raj stand in a different row than others.
Shilpa writes the following as an answer to a question asked to her on her Goodreads profile:
"During my final year in high school, I began to unearth my family's past. In the process of discovering my roots, I realized the complexities of my own life, shuttling between the two worlds I was living in — my village with its ancient traditions and my boarding school where I was being brought up with a modern outlook. I felt that this story needed to be told as it speaks for not just me but all my schoolmates who come from very poor families."
Shilpa is telling how did she get the idea for her book The Elephant Chaser's Daughter. She wants to open up about her family and her ancestors and tell the world what she feels 'shuttling between' the two worlds. And naturally, there are many others like Shilpa who come from the poor family backgrounds as well as backward communities of Indian society who don't even have access to the basic education. And the truth is that they cannot write for themselves nor they can speak up… they needed someone from among themselves to write and speak for them and Shilpa Raj, the author, has accepted that role. Thus, Shilpa becomes not only a writer of her memoir but also the writer for the masses who is writing with a motive to let the world know what do we need to overcome the follies which still prevail in our society.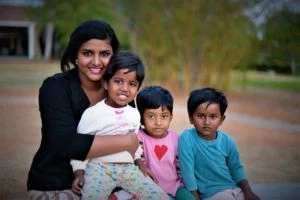 Shilpa's writing style and her memoir have been praised by many book critics around the globe. She has also been featured in a Netflix Originals series called Daughters of Destiny in which she will also be reading few chapters from her book. Shilpa has completed her schooling at Shanti Bhavan, a school for kids from the poor sections of the society who are not supposed to study. She has completed her higher education in Bangalore and earned an M.Sc. in Psychological Counselling. She loves arts and takes out the time for singing and dancing from her busy schedule. Shilpa also loves to teach the children at Shanti Bhavan.
If you wish to know more about her, visit her official website: http://shilpa-raj.com
You can buy the book – The Elephant Chaser's Daughter by visiting the link below:
https://www.amazon.in/Elephant-Chasers-Daughter-Shilpa-Raj-ebook/dp/B071XHD4LM
Article by: Aman Singh