Chanakya's Chant by Ashwin Sanghi, perhaps, continued what was started by Amish Tripathi in his successful series Meluha. However, in the beginning, we must agree that there is a huge difference between Meluha and Chanakya's Chant. Ashwin's take is on history which is rather accessible and Amish's Meluha ventures in the corridor's of history which has a few versions in different Indian texts. So, Ashwin's novel might be termed courageous and it became successful but not as much as Amish's. let's get into other details of this novel and I will share my opinions on those in this book review.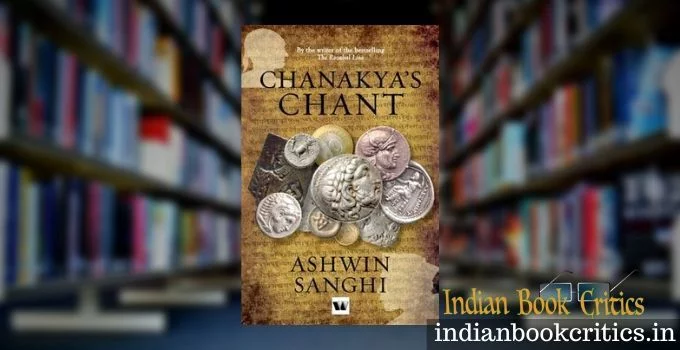 Chanakya's Chant employs two sets of storylines and also, if you look carefully, two distinct narratives with different sets of characters working for a single goal – to acquire a kingdom. The contemporary narrative has Pandit Gangasagar Mishra from Kanpur, Uttar Pradesh, as the hero or say, Chanakya. The ancient storyline, dated 'almost 2700 years ago, has the original Chanakya's story of fighting Magadh's failed and cruel king Dhana Nand. However, fictional liberties have been exercised very well by novelist Ashwin Sanghi in order to make the story even more interesting and more than a mere retelling of history. Though it might compromise history, it becomes certain that the pleasure quotient will increase. Many leading and top book bloggers in India have praised the novel with a little scent of caution. 
While the first of the narratives is about Chanakya's great political and sociological and economical strategies, the second one, even more interesting, is about contemporary intellectuals working for a 'better India' and this better India is purely according to their subjective wisdom. Pandit Gangasagar Mishra and his companions, Chandani, Menon and Agrawalji. Though there are many others, these three are the central ones and around them, the novel revolves. However, the question that one should ask is whether the motifs of Chanakya were the same as the motifs of Gangasagar have been in this novel? One might not agree and one might agree as well. I would throw this concluding remark by the character himself: 
"The unity and integrity of India requires strong leaders and often these leaders must play dirty games. Chanakya did that for his protégé—Chandragupta, and I did it for my protégé— Chandini Gupta. Yes, Shakti trumped Shiva— a sign of our times. I have no regrets."  
The novelist has used many allusions. Symbolism applied by Ashwin Sanghi is equally praiseworthy. However, that might offend the reader as well given that the reader construes the symbolism in a certain way. Warfare, political, in the contemporary narrative perfectly goes hand in hand with the modern version of politics in India. With all the havoc by the opposition, these days and then as well, about EVMs, misuse of agencies, international muscle-flexing and so on… we cannot be on different pages about the relevance of Chanakya's Chant even today. Though it is a 2011 novel and political scenario at that time were different and more we can see in the novel as well, it is still very much up to the mark. Bihar, UP, central, Dalit, Muslim, political social compulsions, caste equations, ideal and voteworthy and also a politically picked rather than picked on the talents and hard work, candidates… Ashwin Sanghi seems to have studied Indian politics very closely and he has used it equally wonderfully in his contribution to Indian English literature. 
Technically looking at it will bring to the attention of many readers that the language used by the novelist is slightly different, in a progressive sense, when he shifts to the ancient storyline. While the language becomes too normal to be called standard when the novel shifts to Pandit Gangasagar Mishra storyline. Well, it might be understood because most of the readers are going to take a major interest in this part of the novel and hence, to reach a wider audience, the author needs to be simple, as much as he can. However, is being simple to a level that makes the narrative look like a mere story allowed by the standards of Ashwin Sanghi? That is a little disappointing. 
Commenting on the aesthetic extractions from the novel, something that goes beyond analysing the text and representation of ideas in the text, I would like to draw the attention of the readers to a certain thing in the novel: 
"Their MPs would support Chandini's bid for prime minister but would want some Cabinet berths in return."
The loser party, the lost prime minister and the lost MPs were also happy with Chandani Gupta's win, the prime minister-elect. It betrays the whole idea of the novel where the characters, so-thought modern Chanakya, thinks of providing an alternative and securing the nation's fate by getting the reigns to govern it in the most worthy hands. After doing all one could do, sam, dam, dand-bhed, you mix with the corrupts! Strange. 
To conclude, the novel is certainly innovative. It is a mixture of two stories that must be read side-by-side to understand that politics should be done to save the country and not to milk profits. However, the attempt of Sanghi to qualify his contemporary plot miserably fails towards the end with revelations made by the outgoing PM and the scenario that is presented. It may be deliberate by him to show 'things are unlikely even if they appear likely' in Indian politics… may well be! The novel is written in a very simple, and surprising way that makes me wonder what was special about it except thinking that Chanakya was right… It will be interesting but might be boring if you lose your interest mid-way. That might bring things to a premature close and you might reach the end which is not very rich. There are the things that will make your mind wonder once you start visualising things in today's circumstances. 
Is it worth reading? Yes. It is worth trying though. You should begin to see whether you can cope with this or not. If you like the concept and an unstandard language gets better of you, you can continue reading it and reach the end. However, the levels of interest are directly proportional to your interest in history and politics. You can get a copy of this novel from Amazon India in Kindle format and get some hours of distraction in this hour of crisis and suffocating lockdown. Click the link below to get a copy:  
Buy the novel from Amazon India – click here to go to Amazon 
Review by The Bull's Eye Objectivity for Indian Book Critics 
Chanakya's Chant | Book Review
Indian Book Critic's Fiction Rating
Summary
Chanakya's Chant by Ashwin Sanghi is a novel that proposes a modern version of Chanakya in the form of Pandit Gangasagar Mishra who plays his cards like 'Shakuni' to get the reigns of India in a 'worthy pair' of hands.