Jestus on Rampage is a weirdo novel written by author V. S. Sury which will surely entertain you a lot because it is packed with humour, dark humour and sarcastic humour. You will laugh; you will think; you will be sad; you will be happy. There will be a mixture of different emotions which this book, Jestus on Rampage, will bring in your heart and send your mind to the feats of thoughts. This unmissable piece of novel features the weird character Jestus, who has so many names, as the central protagonist. Other characters revolve around him and the story rests on his weak shoulders as well.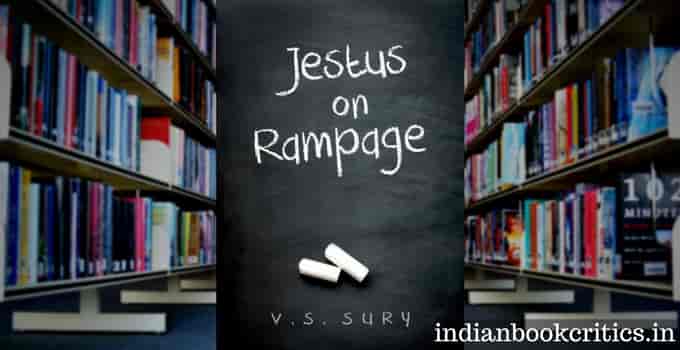 'I love you so much Sarah.'
'Thanks. I love you too.'
'Of course. You have no other option.'
There are witty and humorous dialogues across the narrative and you will just be surprised at the humour this guy Jestus aka Bagdenborg has. He is a professor who comes to join the university on his horseback. A professor of science, he has a very good grip on other subjects as well as different languages. No one can say that this 45-year-old professor who looks like 65 or more can even be a tricky person in any possible way or even in the wildest of the dreams but the university authority kicks him out because they fear that Jestus will damage the university's norms.
Jestus on Rampage can also be seen as a novel with a hero who is rogue and he does real misadventures which entertain the readers in different ways. He escapes several 'assassination attempts' and he even fools his rivals who are after him in the Rationalist society. Now, this is a tricky part of the author. V. S. Sury, the author who is experienced and well-read, cannot lightly write this lengthy novel with so much of humour without any purpose whatsoever… you will have to read it seriously and you will be able to bring out the hidden metaphorical ideals in the book which go on making you believe the depth of the satire. You have to do it if you want to enjoy the book as well as read it seriously!
The plot of the novel Jestus on Rampage is rather straightforward and you will have no worries navigating around. However, the theme is a little wide and serious at times and light and humorous most of the times. The words used by the novelist are rather simple in nature and there will be no need of sitting with your lexicon around you while you are reading this novel.
You can own a paperback copy of the novel Jestus on Rampage by visiting the Amazon link attached below:
Jestus on Rampage on Amazon India
by Shubham for Indian Book Critics
Jestus on Rampage - reviewed
Theme

Plot

Narrative & Diction

Reading Satisfaction
Summary
You can read this novel in your pass time because it will be a perfect tool of humour and laughter. However, under the currents of humour, lie a world of reality and pain which you will only feel if you read this fiction seriously and carefully.