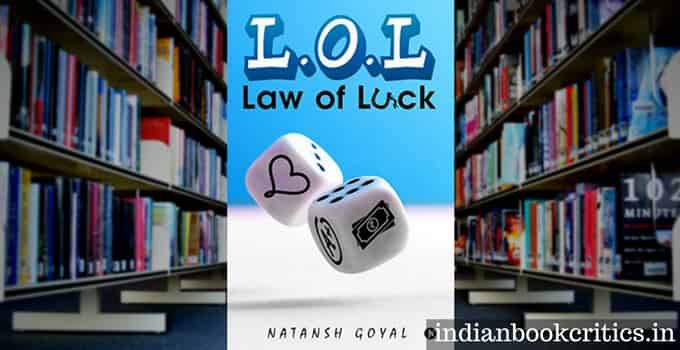 Natansh Goyal's debut novel, L.O.L: Law of Luck, will thoroughly entertain you, have no doubt about it. In the form of a novel, the author has served the pure entertainment and for the purpose of the message that authors convey through their fiction, the author has employed the technique of allusion and he has used a diary-narrative very emphatically. Ravi Gupta, the loser at the beginning of the novel we are introduced to, starts reading the diary of his uncle who dies at the very beginning of the novel, Mr Jeevan or Jeevan uncle as he calls him. Jeevan uncle enjoyed a life of more than 100 years. His diary begins in 1912, long long ago.
The major thing that Ravi learns from the diary of Jeevan uncle is the law of attraction. In the diary, Jeevan noted:
"My mother used to tell me that if you desire something from the depths of your heart, the whole universe conspires to bring it to you. She would explain it as the law of attraction & that it was how the universe worked."
After losing his girl and thinking that he won't ever succeed in the examination, Ravi thinks to implement this law and mixes it with his law of luck and the miracle begins to happen. However, it's not as simple as I am narrating it to you. You really need to enjoy the fun that this novel is.
L.O.L: Law of Luck is not a traditional novel and it is not filled with dialogues in the inverted commas as well. The author has narrated in a way which attracts the readers and compels them to keep on reading; this is something you will notice at the very beginning of the novel and then you will just move on with your read like many readers already have. For example, on page number 43, you will meet a friend to Ravi:
"I entered my room and met my roommate, Murali, his full name being Murali Naga Venkata Satya Kumar, a native of Amalapuram from Andhra Pradesh. He carried the names of his previous three generations, with the last one being a freedom fighter. Coincidently, he was born on our independence day as well. He greeted me half-heartedly and half-sleepily."
In the lines, you will find a light amusement, half-seriousness and an enchanting lucidity with an unconventional style of narrative. And throughout the novel, you will keep finding instances like this – on the plane, at the airport, in the hostel, home and even in the library… A proper novel with the pack of fun unleashed on the readers.
To all the readers of Indian Book Critics, I will just say that you seriously need to read this book if you have been reading other stuff recently. It will be a perfect change for you and finishing this novel won't take you more than a day. L.O.L: Law of Luck is a perfect blend of moral, fun, satire and comedy. Episodes like IPL betting and a full-fledged Indian wedding as well as the very opening and many others like that will make you feel you are reading an outrightly Indian novel with proper Indian language – desi at times and honest utterly.
Natansh Goyal hasn't failed on the aspects of the novel as well. His plot, though limited and strictly tracking only one character and everything else around him, is good enough. Language and narrative are never the issues and use of poetic language in the diary and even poems by him which he has meaningfully used in the diary-narrative are something of the innovative sort for an Indian fiction.
Guys, give the novel a read and decide for yourself how far the author has succeeded in impressing you. We are rating it 4/5 because we have read such kind of fiction in a long-long time. Your readership will be awaited by the author and by our comprehension of L.O.L: Law of Luck, you are going to be greeted and entertained by non-stop does of laughter and lessons of life in a lighter way. Happy Reading!
Get your copy of the novel from the Amazon link below:
L.O.L: Law of Luck on Amazon India – buy now
review by Sujit for IBC
L.O.L Law of Luck - reviewed
Summary
A must-read for all! New and fresh with innovative narrative and a successful attempt at something of its kind!